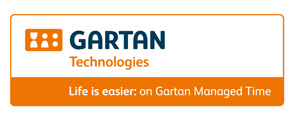 Software Developers Wanted: Graduate - Senior Level
We're hiring and you could be just what we need.
At Gartan Technologies we specialise in Rostering, Payroll & Availability software solutions and work with some of the largest Emergency Services in Europe, Australia and North America.
Due to continued, rapid growth, we have a number of exciting opportunities for Software Developers of all levels (Graduate, Junior & Senior) to join their team of professionals.
To apply for this role please email your CV and cover letter to hr@gartantech.com by 5pm Friday 18th May 2018. We welcome all applications.
What's your passion?
At Gartan Technologies we believe anything is possible. We are developing our business in the UK, Europe and as far away as Australia, from Donegal.
Our company has been built with the help of talented people who can bring their own take on how to do things.
The people at Gartan Technologies have been able to develop their careers, based on their interests and talent. Our ethos is based on the premise that people are usually very good at what they're passionate about. Many of our team has been with us from the start, just like our clients. Some have an IT background, others haven't. We're interested in individuals. People who are respectful, know how to support others, enjoy a good joke and yes, work hard. No prima donnas or office politicians please.
We're always on the look out for talented, curious individuals, motivated to do things better.
If you think you would like to work with a company where your ideas could make a valuable contribution send your CV to hr@gartantech.com
Meet some of our Team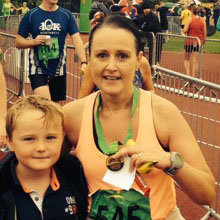 Mary Kelly
User Support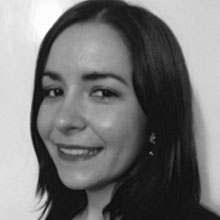 Shauna McCallion
Business Administrator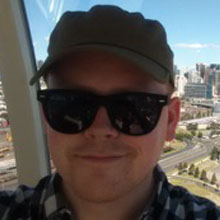 Aaran Heavey
Senior Analyst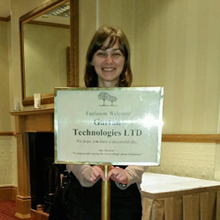 Anamaria Stoica
Business and Systems Analyst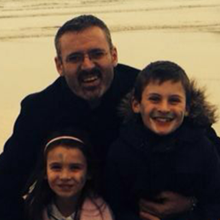 Liam Black
Development Team Lead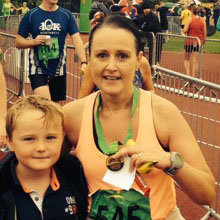 Mary Kelly
User Support
Mary's official title is User Support, but really she's the person you go to if you want to find out the fastest way to do things at Gartan Technologies. She's a fixer and doer, always quietly going about sorting things out without any fuss. She has worked at both larger and smaller companies and she says, at Gartan, "You get to know more about what the company offers to their customers as a whole, as opposed to just knowing how to do your own job only. People here like to know what you think which means you can have an input on many different aspects,."
Mary's been running for roughly 5 years, starting with 2k and now does half marathons in very respectable times. Her advice to anyone starting to run distances is to 'be determined" and to have some company to give you support. "It's easier with someone else running with you.". Mary says it's always tough at the beginning but the more you do it the better you get. In training for the Half Marathon she ran 16K in 30 degrees in Lanzarote, (Donegal isn't always that hot) now that is determination.
She works three days a week at Gartan Technologies, "I can do my long runs on my days off and have a break in between, as opposed to doing a long run on a Sat and again on Sunday. When I started working here, I was pleased to see the Shower room upstairs I can run short distances at lunch time and have evenings free to spend with my family."
"Gartan Technologies has a culture of flexible working, as long you get the work done. For instance, I start at 9.00 am but others start later or earlier which means they finish at times which suits some with young families. It's very busy here with lots going on, but it's always very varied with new clients so the day goes in really quickly. The coffee breaks are a good place to discuss what's happening during the day and to have a laugh."
"I enjoy my job, the people here are very easy to work with and there is a good team atmosphere. I am very aware that my voice is the first one people hear when they contact Gartan Technologies so it's important to be friendly and helpful. That pretty much sums up the company."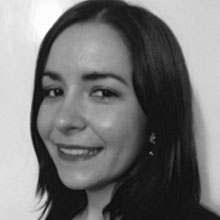 Shauna McCallion
Business Administrator
Shauna has been with Gartan Technologies for almost 5 years. She has previous experience working in the Financial Services Industry, as well as working in the Healthcare Sector while living in Australia. Her friendly disposition and ability to listen means she has a natural talent for customer service. Shauna started out in reception, welcoming everyone and with her 'can-do' approach soon became an expert on Gartan products.
Shauna is now a Business Administrator and trainer. She makes sure that Gartan customers are up to speed on all the latest features to help make their lives easier.
"As Business Administrator, my role within Gartan is really varied – it's one of the reasons I enjoy it so much. One day I will be busy in our Donegal office working on reception and User Support, generating reports or creating user manuals and videos; while the next day I could be flying to the UK to deliver training."
She continues, "I love travelling and finding out about new places and people. I'm looking forward to visiting Thailand soon."
"My Training Manager role entails a lot of travel and I really enjoy it. It has taken me all over the world. It allows me the opportunity to meet with lots of our clients and to visit their headquarters – giving me an understanding of each individual organisation."
She continues, "Even though I didn't come from an IT background, it was possible for me at Gartan Technologies to transfer and develop my skills. Everyone is genuinely willing to help each other out where they can. I feel privileged to work with such a great bunch of people."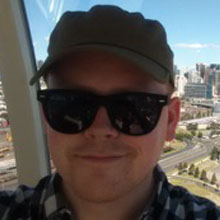 Aaran Heavey
Senior Analyst
Aaran Heavey has one of those enquiring minds, which just don't stop. He started with Gartan Technologies in early 2008 right after graduating from Sligo IT. He is a Senior Analyst and Business Development Manager in Australia and New Zealand.
"Right from the beginning I was involved in design, development, and support of Gartan Technologies applications especially our Roster module. My input varied from on-site meetings in the UK to gather requirements, to analysis of new rosters based on changing requirements. This allowed me to build a wealth of knowledge about the products and a detailed understanding of the changes and challenges our clients face."
In 2014 Aaran moved to Sydney to introduce Gartan Tech modules further into the Australian and New Zealand market place.
Was the move so far away a tough one? "Not at all, I'm really enjoying living and working in Australia, plus I'm developing new client relationships which is a new aspect to my role. It's a different market and a very exciting one. Of course the weather is great."
Aaran loves to travel, and moving to another continent hasn't slowed that down one bit. " I've already travelled around Australia and New Zealand with Gartan Technologies. It's really the best of both worlds, combining both your career and interests "
When he's not working, Aaran can be found with a backpack and a map, exploring new cities and the bush lands. At Gartan Technologies, we're hoping he doesn't go too native. We miss you sport!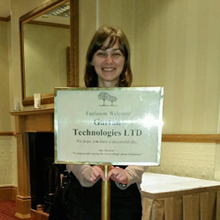 Anamaria Stoica
Business and Systems Analyst
Ana Stoica who's originally from Romania, has been working with Gartan Technologies for nearly 10 years now. What started out as a work placement as part of Ana's degree in Programming at IT Sligo, turned out to be a good move. Gartan Technologies spotted her talent and she became permanent in 2007, firstly part-time to allow her to finish her course and then a full-time programmer.
"As a programmer I had lots of scope," she explains, " I was testing my own code, doing configurations and performing needs-analysis with customers. It was much wider than a traditional programming role you would have in larger companies".
"I was project lead on one of our products, "Retained Availability", where I had full responsibility of the product and I was also in charge of training the new developers on the team."
Speaking about what it's like to work at Gartan Technologies, Ana says, "Everyone's effort is important at the company, it means that you learn but also contribute, that makes you feel valued."
"There's always a challenge or something new going on and your experience grows exponentially since you pick up knowledge from different members of the team here. It's collective learning. The people at Gartan Technologies are all very good and because we work so closely there's a lively team spirit and plenty of "craic."
"I wanted to continue my studies and Gartan helped me to pursue this by offering flexibility around my days. Ana is studying the Executive MBS in Leadership and Innovation at LYIT, " My preconception of this Masters was very different, it's so interesting since it was very much "active learning", everything can be applied at work. As a result, I learned from day one."
"In 2015 I was promoted to Business Analyst which is a very different role. It's a new challenge which is much more customer-facing which involves ensuring that customer needs are accurately communicated to the development team. I also work to develop new processes and lead continuous improvement in existing ones."
"The role has given me a deeper understanding of our customers and their needs and but also of all our products, not just the one I was responsible for before. I now realize how important good communication is for all business activities."
Ana does miss her home in Romania but feels she's really settled in Donegal. "I love being here, it's a beautiful place, the people are great and I'm developing my career with a good company. I feel lucky."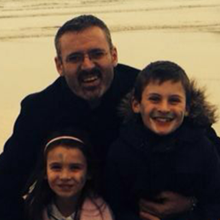 Liam Black
Development Team Lead
My primary responsibility, as the Development Team Lead for the Gartan Roster module within Gartan Technologies, is to ensure the completion of projects on time. I work closely with the Chief Operations Officer and the Chief Technical Officer. We've a team of experienced developers from various backgrounds with many areas of interest, and so, there are always plenty ideas and solutions discussed.
A major aspect of my role is evaluating client requests for new requirements and planning them into team development schedules. This often involves travelling and meeting clients to talk about their needs. I enjoy coming up with solutions for clients and I particularly like the freedom to experiment with newer technologies to look at an issue from a completely different perspective or simply to return to something that has previous worked well. It's never boring.
Using your own initiative and thinking for yourself is valued at Gartan Technologies. You know that your ideas will always be listened to. This is very encouraging and gives you the confidence to try new things. I believe the environment at the company helps creativity which ensures our products continue to grow and remain relevant.
I have always placed a large emphasis on work-life balance in my career and so the flexible culture at Gartan Technologies is a massive plus for me. Whilst working in a company that has such strong growth will mean periods of intensity and stress, my home-life commitments are always considered. This is important for me since I have a young family, so if time is needed to attend the school play, or the unexpected trip to the doctor, something is always worked out.
Working in Gartan Technologies is highly enjoyable. There is a great mix of work and play here. Whilst the office is serious and very busy, there is always a smart comment or a joke flying around!