HOW WILL GARTAN TIMESHEETS HELP YOU?
An integrated solution that creates an efficient work-time recording process
Reduces costs by harmonising payroll, billing and associated processes
Ensuring compliance through comprehensive approvals procedures
Helps to build employee trust by delivering accurate and timely payment data
Over 20 years' experience in delivering attendance, payroll, billing solutions
Data driven reports that put control back in your hands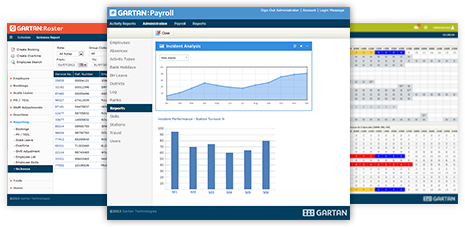 - Customised Payroll Configuration
- Flexible Approval Options
- Payroll Arrears Calculations
- Leave, Overtime & Absence Payments
- Third-Party Payroll Integration
- Callout Charges & Billing Facilities
- Detailed Incident Recording Facilities
- Staff Medicals, Inoculations & Equipment
- Length of Service Awards
- Activity Absence Analysis
- Government Statistical Reporting
- Comprehensive Reporting & Suite of APIs
- Contractual Performance Analysis
- HR & Roster Integration

Case Study
Manually calculating pay entitlements for non-salaried staff can be a time consuming task. Cumbria County Council were manually calculating their part-time fire fighters' payroll entitlements which resulted in regular errors due to the vast amount of paperwork involved. When you have to calculate down to the hour and minute it wasn't the most effective way of doing things.
The challenge here wasn't only related to paying staff for the work they performed but also calculating part-time holiday pay and other allowances. These payments are subject to complex algorithms since they're tied-in to previous earnings. Even when the payroll entitlements were calculated, Cumbria still had to manually input the information into the main payroll system.
Read the Solution