GMT saving more than one hour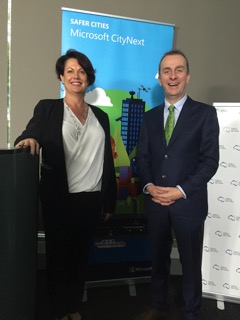 Malachi Eastwood CEO Gartan Technologies in Australia on the Microsoft Safer Cities Roadshow with Nicole Whyte, Public Safety & National Security Development Manager, Microsoft.
We lost an hour recently when the clocks went back, but why? Greenwich Mean Time (GMT) was firstly adopted across Great Britain by the Railway Clearing House in 1847. It was initially introduced because there was a need for railway companies to have a standard time for trains to run. It was then widely adopted in Britain by the early 19th century. Interestingly, after the Easter Rising, the Time (Ireland) Act, 1916 meant Irish time and British time were the same, this came about largely to facilitate sending telegrams between the 2 countries. Today, Greenwich Mean Time or Coordinated Universal Time (UTC) is in operation by countries across the EU which is why we lose an hour.
The people at Gartan Technologies are equally preoccupied with time. In the last 18 years they have pioneered products which help emergency organisations save time with Gartan Managed Time® or GMT. GMT is software, which notifies emergency services instantly about the actual personnel and equipment available so that the controller can respond with the best resources to tackle each emergency incident.
Essentially Gartan software gives organisations prior intelligence, which can result in saving vital seconds, and ultimately lives. Gartan products are regarded as the leaders in this field with many UK and Irish Fire & Rescue services using GMT, but now Fire and Rescue services on the other side of the world are seeing the benefits of these products too. Last year Gartan Technologies entered the Australian market and won a substantial contract with New South Wales Fire & Rescue Services. Then shortly afterwards the company secured a contract with South Australia Metropolitan Fire Service.
Malachi Eastwood, CEO Gartan Technologies, is taking part in the Microsoft Safer Cities Roadshow, an event that focuses on the needs of Law Enforcement, Emergency Responders, Courts and Correction Sectors, which is visiting major cities in Australia. This Roadshow represents a unique opportunity for the Donegal company.
Mr. Eastwood speaking about Gartan's unique software says, "Our focus is on the human cost of missing accurate information. This is acutely important for emergency sectors but also for other industries where efficiency and productivity is key. Our software is very easy to use, both for the people on the ground and for management to plan and forecast. The products work, that's how we've built our reputation."
"The philosophy at Gartan Technologies has always been, if we can find a way to make life easier for our customers and their teams, we will. We're looking forward to working with many more Australian organisations in the future."
Gartan Technologies are successfully bringing Gartan Managed Time (GMT) and perhaps a little piece of Donegal to the other side of the world. Go Gartan.