Mary Half Marathon Runner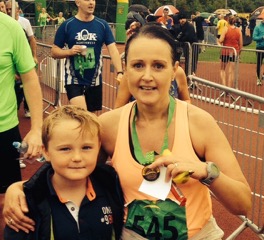 Mary, Half Marathon Runner.
Mary's official title is User Support, but really she's the person you go to if you want to find out the fastest way to do things at Gartan Technologies. She's a fixer and doer, always quietly going about sorting things out without any fuss. She has worked at both larger and smaller companies and she says, at Gartan, "You get to know more about what the company offers to their customers as a whole, as opposed to just knowing how to do your own job only. People here like to know what you think which means you can have an input on many different aspects,."
Mary's been running for roughly 5 years, starting with 2k and now does half marathons in very respectable time of 1.57. Her advice to anyone starting to run distances is to 'be determined" and to have some company to give you support. "It's easier with someone else running with you.". Mary says it's always tough at the beginning but the more you do it the better you get. In training for the Half Marathon she ran 16 kilometres in 30 degrees in Lanzarote, (Donegal isn't always that hot) now that is determination.
She works three days a week at Gartan Technologies, "I can do my long runs on my days off and have a break in between, as opposed to doing a long run on a Sat and again on Sunday. When I started working here, I was pleased to see the Shower room upstairs I can run short distances at lunch time and have evenings free to spend with my family."
"Gartan Technologies has a culture of flexible working, as long you get the work done. For instance, I start at 9.00 am but others start later or earlier which means they finish at times which suits some with young families. It's very busy here with lots going on, but it's always very varied with new clients so the day goes in really quickly. The coffee breaks are a good place to discuss what's happening during the day and to have a laugh."
"I enjoy my job, the people here are very easy to work with and there is a good team atmosphere. I am very aware that my voice is the first one people hear when they contact Gartan Technologies so it's important to be friendly and helpful. That pretty much sums up the company."