Gartan Technologies aim to reduce carbon by 1 Ton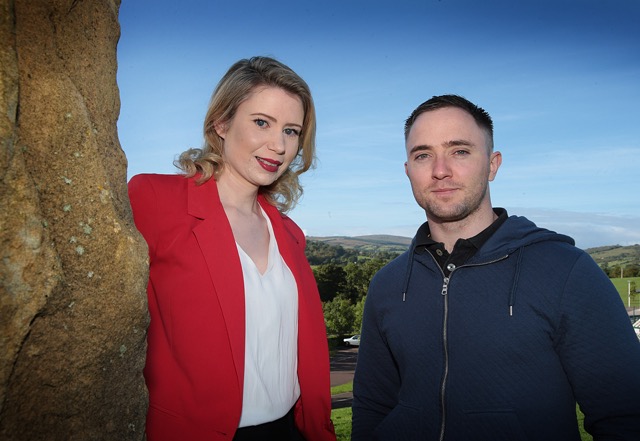 Audrey & Jason
Gartan Technologies, has estimated that it will reduce the company's carbon footprint by over one ton (1140 KG CO2) over 12 months. This is the equivalent of 57,000 cups of tea or driving a car for 3,000 miles. Jason Greene and Audrey Hunter, from Gartan's Quality Assurance Team, are both interested in this area and came up with a comprehensive plan to reduce the carbon footprint of the company.
This Carbon Reduction Policy was adopted by Gartan Technologies earlier this year. It includes some clever ideas, which are easy to implement and are having a huge impact on reducing the company's carbon footprint.
One of the these initiatives is implementing a power saving plan using a feature found on all PCs, which puts the computer in 'sleep' mode by pressing the power button once. Jason explains, "It's more likely that when someone leaves their desk for a meeting, break or lunch that they will automatically put the computer in sleep mode. This alone is projected to reduce the Gartan carbon footprint by 800 KG CO2 . It has also been introduced for printers in the office too."
Speaking about how they came up with the plan Audrey says, "It's all about identifying the habits or obvious waste, things like leaving equipment on when it's not being used and also perhaps making everyone think more about the environment."
"For instance, we've introduced a checklist for the meeting room so that when people are finished they ensure all presentation, computing and lighting equipment is turned off when the room isn't in use."
"We also wanted to think of ways to reduce carbon outside the office so we asked everyone not to drive somewhere for lunch one day a month. It's been well received."
The Policy at Gartan Technologies includes use of double-sided printing to reduce paper, heating which is monitored electronically to match temperature and accounts for weather forecasts. There are also common sense ideas such as, making the most of natural light to reduce the use of artificial lighting where possible and opening windows instead of using air conditioning.
Referring to the policy CEO Malachi Eastwood is proud, "This Carbon Reduction Policy was something we wanted to formalise. It's been the people who work at Gartan who have come up with simple and novel ways to help us reduce our carbon footprint and it will continue to evolve. The thinking is, if everyone does something no matter how small we all gain. I'd like to particularly thank Audrey and Jason, and everyone in the office."